Have you ever decided to
Google
your own name just for the fun of it?
I've always been afraid to do it for fear of what I would discover.
But my oldest daughter, Annie, did it last fall.
Turns out there was another girl named Annie Parsons. She has a wonderful
blog
. They started trading e-mails. The other Annie wrote a
beautiful letter
to my Annie. They became good friends online.
But the best part is that the other Annie lives in Nashville. Last week
we got to meet her
.
A.P. (which is the nickname we gave to the other Annie to keep track of who's who - she calls our daugher Little A. P.) calls our Annie her Muppet Baby.
A.P. is one of the sweetest young women I have ever met. As we were saying good-bye after a lovely dinner, I told her that I felt like I had met my "other" daughter.
I hope my girls grow up to be as sweet and caring as A.P.
It was a real joy to finally get to meet her. We'll get to hang out again when we go back to Nashville in the fall. It will be a blast.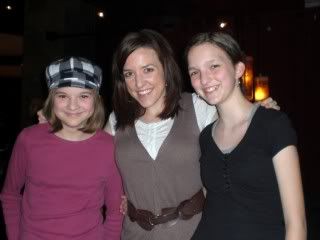 A.P. (center) flanked by my daughters Katie and Annie (otherwise known as Little A.P.)