The first thing Margaret Kerry will tell you about herself is that she is a talker. This is not a huge surprise since she has had an extensive career in radio and voice-over work for various animated productions. But the role she is best known for is one that she didn't even receive credit for nor did it require her to say anything: Tinker Bell from Disney's Peter Pan.
Margaret Kerry. Photo courtesy of Disney.
Mrs. Kerry started her acting career at the age of four as a fairy, ironically enough, in A Midsummer Night's Dream with Mickey Rooney. She would later work with Rooney again on National Velvet doubling for Elizabeth Taylor in several scenes. By the time Peter Pan rolled around, she had already established herself as an actress and dancer when she received the call that would literally change her life.
"I was working at Fox as an assistant dance director and I got a call from my agent that they were doing interviews for this reference model for a 3 1/2 inch fairy who didn't talk. I got home and thought how in the world do you show your stuff when it's a fairy who doesn't talk? So I went into my records and had one that was instrumental and stayed up and choreographed fixing breakfast: getting up, walking to the kitchen, going over, looking into the refrigerator, getting out the eggs, juggling them on the way over to the stove. Of course there was nothing there. It was all pantomime."
"I took my record player with me over to this very tiny office. I put the record on and did it for them. I think they were a little taken aback. So then they said 'What we want to do is this scene where she lands on the mirror and preens herself and then she measures her hips.' And I said, 'Oh, I can do that.' I did it for them and I learned later that one of the reasons they hired me was I looked down through the mirror which wasn't there and back up. They could see the difference in my face. I figured that Tinker Bell had never seen a mirror before. They hadn't thought about that. To me, all of these things are so new to her and that's what makes her so beguiling. She has never seen a jug before so she get's inside it according to the book. She's never seen a mirror before. So now she's preening and she's never seen her hips before. That's what they saw that I was able to bring: this other dimension to her that they really hadn't thought about."
"Tinker Bell was a throwaway character. They were not going to do much with her. First of all, she really did not fit in the era. Wendy was the character that was in the culture, the demure, helpful female that was the mother type. They had had Cinderella and Snow White and along comes this cury thing who is independent, starting to find out what life is all about. She is adventurous and no one is going to tell her what to do."
Clearly, Ms. Kerry's ideas about the character helped transform her from a minor player to a major part of the story. She would go onto the soundstage and act out different scenes for the animators so they would know how to draw the character. I asked her how difficult it was to act out the sequences that only the animators would see.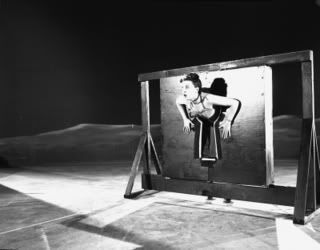 Margaret Kerry (Live Action Reference Model for Tinker Bell) © Disney. All Rights Reserved..
"It was not difficult because I believed in (Directing Animator) Marc Davis. He could explain what he wanted and I, as a female, having gone through so much of this, as an actress, a pantomimist, and as a dancer could put it all together. I knew when he got to what he wanted when he would say 'Let's film that'. He was an enthusiastic, delightful genius."
Little did she know that this 3 ½ inch fairy would become as closely associated with Walt Disney as Mickey Mouse. I asked her how Tinker Bell managed to become such a Disney icon.
"It wasn't until the people at Disney Studios (they thought Disneyland was going to be an abysmal failure and he was going to lose all his money) asked him not to use many licensed characters at the parks because they made money out of licensing Minnie, Mickey, and the others. So they sent Roy Disney in to talk to him about it. Walt said, 'I'll take it under advisement'. A couple of days later he said 'Tell them I'm going to use Jiminy Cricket and Tinker Bell. Will that satisfy them?' And Roy said yes. That's why Tinker Bell came to life in the park."
"And then, of course, Mr. Disney made the greatest decision of his life. He had Tinker Bell open up his television shows and she would take us all to magical places. And I thought he was a genius for doing that."
It seems a little ironic that the role for which Ms. Kerry is best known is one she was never credited for on screen. It was this lack of screen credit that likely fed one of the wild rumors that circulated shortly after the film's release: Marilyn Monroe was the model for Tinker Bell.
"Marilyn Monroe wasn't even known in 1953. A couple of people who have been at Disney all these years suspect there was a radio interview done and somebody said that Tinkerbell was curvy like Marilyn Monroe and we think that somebody picked up on that and put it in an article."
As it turns out, she had her own close encounter with Marilyn Monroe a couple of years prior to Peter Pan. "She came to Fox. She had just been signed as a starlet and we were doing a bathing suit layout with about 60 other girls. We all fell in love with her. She was just darling and so sweet. We knee she was our main competition. You could just tell it. We didn't mind. There was no backbiting."
"She was sitting around a table with an umbrella over it and we were waiting for the photographer to do a new setup. We were talking about that we didn't go out in the sun because it was bad for our skin. I said, 'For the first time my camera has film in it. Can I take a picture of you?' She looked at me and she said, 'Only if I can take a picture of you.'"
One of the other common misconceptions about the film has to do with Ms. Kerry's alter ego and her feelings toward Peter. When Wendy arrives in Neverland, Tinker Bell gets mad and the assumption is that she is jealous of her because she is in love with Peter. Not so, says Ms. Kerry. "She's gone on adventures with Peter before and has had all of his attention. Then this big, ugly girls comes along and gets the attention. She is provoked. She doesn't know what jealousy is really if you asked her. She just knows that she wants the attention back. Other movies have said she was in love with Peter. But she doesn't know what love is. In today's world she would be called a groupie."
Speaking of groupies, Ms, Kerry says she still gets a lot of mail from men especially who relay the feelings they have had for the little fairy. "You don't know how many letters and e-mails I get from men who say they were in love with her from the first moment they saw her. They're always a little bit hesitant to say it. She can't possible hurt you. What a good person to be in love with!"
"I've had men who have walked up to me at Disneyana shows and said 'I have to tell you, Margaret, I've been in love with you since I was five years old'. And I said, 'Fine. I'm not doing anything next Tuesday. Let's get married.'"
Though she wasn't given credit for her work as Tinker Bell, she's still very proud of the movie and says that it has still retained its magic after all these years. "I hadn't seen the film in 12 or 15 years (until a recent screening as part of the DVD release promotion). I realized how much fun this film is. This is a happy, magical film. The audience was in stitches. They were laughing at the crocodile. The crocodile should be menacing. But it's so funny. Everything that they did in it could have been dark, ugly, mean and scary. It was funny. They did the greatest job and I think that right now, we need a happy, magical film from the greatest classical animation company in the world: Disney, and it's this remastered film. It's really something to watch. I forgot since I hadn't seen it in so long. You walk out of the theater singing and happy and talking about, I hope, Tinker Bell.
Peter Pan is now available in a new 2-disc DVD from Disney Home Video.
This article originally appeared at Blogcritics.