In this morning's roundup of links: systematic theology, Victorian slang, pop-up reading rooms, whatever happened to Bible study, and more.
*****************
Aaron Armstrong continues his series on Bible study. In this post, he makes the case for needing a
systematic theology.
*****************
A fun list of
Victorian slang words
.
*****************
Tim Challies continues
his interview with John MacArthur
regarding the criticisms of his Strange Fire conference. As I have mentioned before, I don't have a firm position on this issue. I post these articles only because they interest me in studying this issue. An added bonus:
a charismatic responds to MacArthur
.
*****************
This pop-up reading room brings books to
different parts of New York City
. A very cool idea.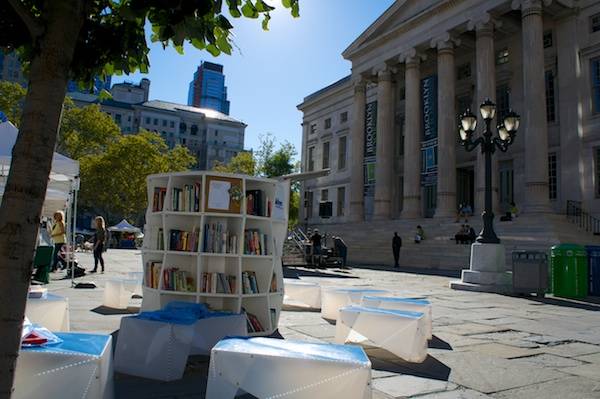 *****************
Whatever happened to Bible study?
It seems to me that simple Bible study – when we open a Bible and study it together – is slowly vanishing from the church.
Oh, we have studies and we call them Bible studies, but the primary source of the study is often a book or curriculum about the Bible, not the Bible itself. The Ladies ministry has "Bible Studies" but they are really studies the thoughts and writings of Beth Moore or Mary Kassian or Lysa TerKeurst or Liz Curtis Higgs or some other well-known author and speaker. I'm not particularly offended by any of those ladies and I'm sure there is lots to be gleaned from their books and study guides. Men gather and study some book about being godly men and there's nothing wrong with that! I even hear of preachers who do series based not on a book of the Bible, but based on someone's book about the Bible. Small groups use this book or that study. And, in full disclosure, my life was radically changed at a pastors' conference when we studied Henry Blackaby's "Fresh Encounter" series, and later the "Experiencing God" curriculum was instrumental in a time of revival in my church in Cedar Rapids.
I am not opposed to Christian books, discipleship curricula and such things.

But I am just wondering, "Where did all the Bible study go?"
Hat tip:
Challies
***************
Take a virtual tour of
Shakespeare's Globe Theatre.
***************
An incredible gallery of
photographs from Charles Dickens' London
.