In today's roundup: a place where it's okay to draw on the walls, new vending machines, some bookish baby gear, and more.
*****************
Moore's Deli in Burbank, CA
is known as a place where animators love to go to eat. That's because the walls of their back room is
decorated with drawings done by their clientele
. It's the only restaurant I've heard of where they encourage customers to draw on the walls.
*****************
The
implications of applying Ephesians 4:12
to congregational mobilization and the role of the pastor. Some great insights on what pastoral ministry should look like. Unfortunately, too many churches do not follow this model.
****************
The
University of California Press has made over 700 of its e-book titles available for public use
. While they tend to skew towards academic interests there are a wide range of titles available. The only drawback is that you can't load them to an e-reader or tablet. But it is an interesting place to go especially if you are doing research for a school-related project. (Hat tip:
Open Culture
)
*****************
Speaking of e-books, this may be the future of libraries.
The first all-digital library has opened in Texas.
The problem with this is that it takes away from the primary reason to visit the library which is a chance to walk through and pick up and browse through books.
*****************
Cute alert: a
collection of bookish baby onesies
.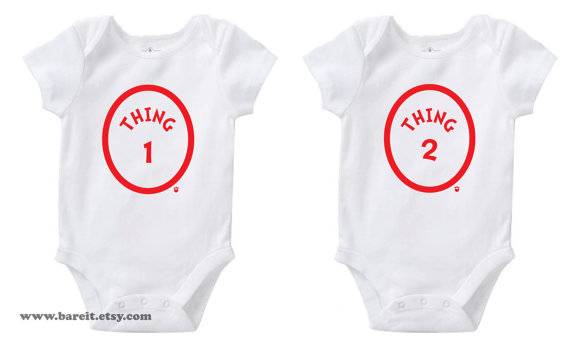 Thing 1 and Thing 2 onesies inspired by The Cat in the Hat.
*****************
Not satisfied with selling Kindles on their website, Amazon is starting to put
Kindle vending machines in airports.
*****************
Popular Science has decided to
no longer allow comments
on their website. I typically don't read comments on articles because the discussions can become rather uncivil very fast. I expect we will see more of this i n the future.
*****************
This is helpful: a cheat sheet on
how to stay gluten free when you are eating out.
(Hat tip:
Food Riot
)